Day Total (company): 20.25 miles, 8 locks (22 feet 11 inches down, 12 feet 3 inches up),                                                  5 hours 53 mins
Overall Total: 461.25 miles, 369 locks
Distance to Newbury: 15.55 miles, 18 locks
There was only ever going to be one title for the Blog today wasn't there!  BUT I will work it into my picture reflection so hang in there!!
Having seen the menu at The Dolphin last night, and having decided to take a couple of hours this morning and explore Wallingford properly I didn't have pudding at the pub.  I turned down a choice of Sticky Toffee Pudding, Teacle Sponge or Spotted Dick with Custard!  No, I'm fine! Seriously!  Those who know me will know that this was a real wrench.  BUT, I had decided to treat myself this morning.
I got up and out for 7:45am, walked up into the town, into the Dolphin for 8am sharp and, for a few pennies more than pudding last night would have cost, I ordered this!
It was delicious!
I then went for a meander up to Wallingford Castle, yet another Motte though not as distinctive as Oxford it gave me a beautiful view…
And then this shot of the section of the Ridgeway in the far distance, that I spoke of yesterday, where I proposed to Jacquie.  Mrs G – I am so glad you said "Yes".
Back into town for a meander via the local church who had a lovely prayer tree that I think I'm going to try and replicate.  I bumped into my travelling companions from yesterday at the church.  They had obviously had the same idea as me to explore.  They told me that a man from the council had knocked on their boat asking for the £5 overnight mooring fee.  I hadn't spotted the signs and had been eating breakfast at the pub when the man from the council called, so effectively breakfast was free!  Still a twinge of doubt as to whether I ought to 'fess up and give £5 to Wallingford Council.  They didn't leave a note though!  So off into the wild blue yonder and leaving my friends on Yr Ddraig Camlas behind as they hadn't got back from town.  They had another day on their licence to make it off the Thames, but I had to be past Reading today.
The morning was beautiful – this is the view back from the first lock of the day…
Just before I pressed the button to cycle the lock (these Thames locks are all electronically controlled!)  I decided to walk to the end of the jetty you can see and look upstream to check that another boat wasn't coming.
I am so glad that I did, as my friends on Yr Ddraig Camlas had left about 15 minutes after I had and caught up with me.  After a little wait we headed downwards through the lock and away towards Reading.  Remembering yesterdays hospitality whilst I waited for them to join me, I had buttered some of the Scones that my Mum made for me and with Jam on, offered them across to my companions.  A few minutes later when we got to Goring lock, they brought out a teapot, full of Earl Grey and we had Scones and Tea in the lock, whilst it emptied!  We reckon tea and scones in Goring on Thames would have set us back at least £35 if we'd not done it ourselves!!!!  And my friends said the scones were delicious – Thanks Mum!
The wildlife today has been amazing.  This morning no less than 4 Red Kites were circling above Wallingford.  I spotted Canada Geese with lots of goslings.  I spotted two Canada Geese who, shall we say, will probably have some Goslings soon!  I saw a PAIR of Kingfishers fly past the boat and veer away into the trees.  Well – it is Spring!  Another Red Kit soared over the boat and landed in a nearby tree.  But the best bit of all was seeing a Fox on the offside near Beale Park.  Sadly my big camera was away at the front of the boat, so you will have to make do with a rather grainy enlargement from my phone…
He was beautiful – and it was after noon so Fox was out in the middle of the day!
Through beautiful countryside and past houses that in total must have been worth more than Woodlands, Highfields and Adwick put together – probably in total worth more than the Deanery!
This was my favourite Garden house…
It reminded me of Thunderbirds!!!  And the trees on the bank are definitely showing that Spring has sprung.  How many shades of green?
Eventually we reached Caversham Lock, my last on the Thames, and went in search of the Kennet and Avon Canal.  The entrance was only slightly easier to find than Platform 9 3/4, and part way along, still in the middle of Reading, was something I've never seen on the Canal before.  Traffic Lights!
There is a narrow section of canal that winds its way through the Oracle Centre in Reading and you wouldn't want to meet a boat coming the other way!  The Kennet and Avon is really a canalised river until it reaches Newbury so the flow was quite strong and the weirs at the lock tails very challenging.  But with help, and a bit of nearly uncertain balancing, I made it to my planned destination – moored in the countryside a couple of miles south of Reading town centre.
So, back to the pun of the day.  I have to give credit here to my friend Andrew Dowsett, who made this comment in his blog  a few weeks ago, and it got me thinking.
"Strictly speaking, there is no such 'thing' as evil. For as darkness is the absence of something – light – so evil is the absence of something – love."
Now every so often on Facebook someone posts a picture like this one.
And in lots of films there is a narative of a balance between light and darkness.  Recently we saw Kung Fu Panda 3 and I was struck again by the Yin-Yang imagery that underlies the whole series.
Even in my favourite films, the Star Wars series, the mystical Force is a balance of light and dark.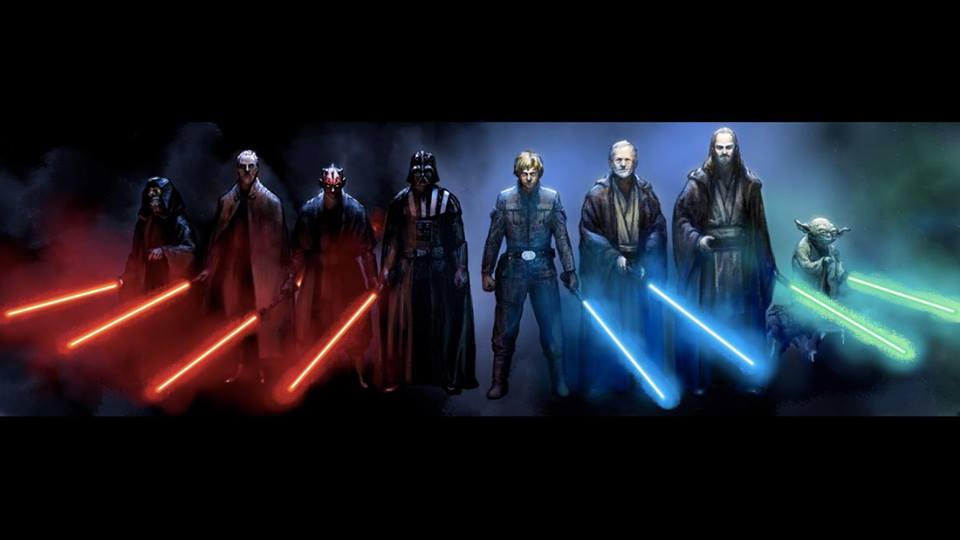 So people come to me, as their Vicar, and the conversation goes like this.
"Why did God create Evil?"
Now here is not the time or the place for a discussion about the nature of suffering and evil in the world.  But Andrew's post got me thinking.
Evil is not the inverse of love.  In Star Wars and Kung Fu Panda the dark is the opposite of light, but in the Bible evil is not the opposite of love – equally strong but inverted.  Evil is simply what happens in the absence of love.
Love is powerful – God is love – evil only has power when love is absent or rejected.
With so many images of Yin and Yang around us it is easy to be drawn into the error of thinking that evil is the mirror image of love.  Yet today, of all days – Star Wars Day.  The day of the year when wannabe Jedi like me say in the mock tones of Sir Alec Guinness – "May the Fourth be with you", to the repeated groans of our annual victims.  Today we need to remember that we don't live in the Star Wars Universe.  We don't need the dark to see the light – we don't need bad to know what is good.
God is Good, God is Love.  Evil and sin are what happens when he is asked to leave.  They have no power when he is invited in.  Don't give the darkness more credit that it deserves, power over you that it cannot have.
You can turn on a light – you cannot turn on the dark!
There is no Force – no Yin and Yang – there is only Jesus. The Light of the World.
Happy Star Wars Day!